Our partnering hospital is a community-based hospital that has grown to serve all of eastern Missouri.  It is a 99-bed acute care hospital that provides comprehensive health and wellness services to the residents of the tristate area. In June 2021, Sevaro began the partnership, providing service to expand and fulfill their mission by providing access to teleneurology care.
The hospital takes care of a variety of neurological patients. In 2020, they lost their inpatient neurology coverage, and were suddenly unable to meet the neurological needs of the patients in their community. There was an immediate gap in acute stroke care coverage as well as inpatient rounding.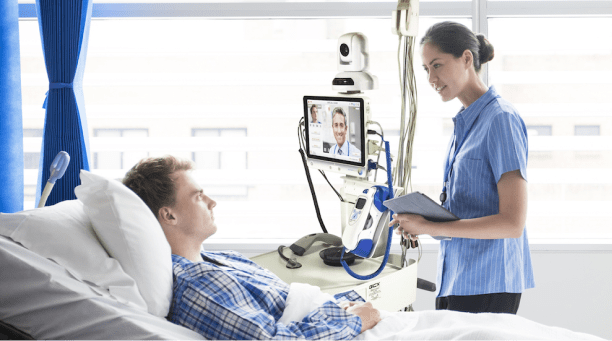 Teleneurology is a branch of telemedicine that allows neurological experts to evaluate patients remotely through different technology, including the telephone and videoconferencing. Sevaro is a technology-driven telemedicine company. Our team includes neurologists, nurses, and technology experts who have worked in over 100 hospitals across the country. This has allowed the best practice and standards of care to be delivered with a collaborative, experienced team by integrating clinical necessities with the most up-to-date technology.
Sevaro works with hospitals to ensure specialized and personalized delivery to each partner based on their needs. Patients are treated on video by a board certified neurologist managing complex patients at community hospitals.  Whether the gap in care is acute neurologic emergencies, neuro critical care, or inpatient follow-up, Sevaro offers the needed neurological care.
In June 2021, Sevaro began providing emergent neurological coverage and inpatient non-emergent neurological coverage for our partner hospital in eastern Missouri. The initial estimation for neurological consults was 50 per month. The results since initiation of coverage has been dramatic and game-changing for the hospital.
Sevaro saw a total of 643 neurological patients in the past 6 months: 217 for emergent care, and 446 for non-emergent and rounding. The average number of consults increased 114.33% from the initial estimation.
During those 6 months, the hospital was able to retain 131 of these neurological patients and prevent transfer, which reduced their transfer rate by a whopping 36%.
The breakdown of diagnoses for the top 5 highest neurologic patients was as follows:
Acute Ischemic Stroke – 30.39%
Altered Mental Status – 23.84%
Seizure – 14.73%
Toxic Metabolic Encephalopathy – 8.18%
TIA – 5.84%
"What a difference this is making for the patients of our region.  I so appreciate Sevaro's team and the value they bring.  I believe we are bridging healthcare gaps in Northeast Missouri."
– Process Improvement Coordinator, Sevaro Partner Hospital
Ready to see what a partnership with Sevaro can do for your hospital?
Schedule a demo or give us a call today!