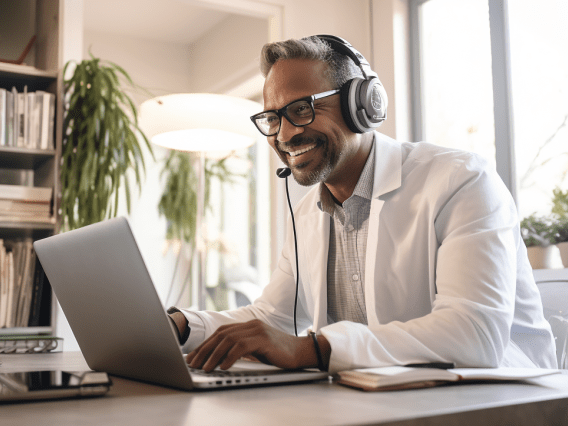 Revolutionizing Neurological Care with Teleneurology and Telestroke: The Sevaro Advantage
Introduction 
Telemedicine has ushered in remarkable advancements in healthcare in recent years, enabling medical professionals to deliver remote care to patients regardless of time or location. Neurology, among various medical specialties, has experienced significant growth in this field. In this blog, we explore the benefits of neurologists collaborating with a teleneurology company like Sevaro, founded and led by neurologists, and how this partnership can revolutionize neurological care.
Specialized Expertise in Teleneurology
Sevaro, a neurologist-led telemedicine company, brings together a team of experts with an in-depth understanding of neurological conditions and treatments. This specialized knowledge ensures the most accurate diagnoses, effective treatment plans, and optimal patient outcomes. With the ability to collaborate and seek guidance from peers, teleneurologists can deliver the highest standard of care. Sevaro's approach fosters proficiency and reduces the case load, setting it apart from other teleneurology companies.
Telestroke Services Expand Reach
Teleneurology overcomes geographic barriers, enabling neurologists to extend their reach far beyond their physical location. Patients in rural or underserved areas can access specialized neurological care without traveling long distances to major metropolitan areas. Sevaro's commitment to expanding the patient base helps address the geographic maldistribution of neurologists, making a significant impact on communities lacking adequate access to neurological expertise, including life-saving telestroke services.
Advanced Medical Technology Tools for Enhanced Care
Working with a neurologist-led telemedicine company ensures access to state-of-the-art medical technology specifically designed for neurological assessments. Teleneurologists are typically required to learn multiple EHRs, remember numerous passwords, fax, and use numerous imaging softwares. Sevaro's innovative solution, Synapse 2.0, serves as a clinical navigation tool that allows neurologists to achieve better patient outcomes by allowing them to focus on the patient, not disparate telemedicine technologies. Within Synapse 2.0 is the Nirvana Notes platform, which has built-in clinical decision support tools that dramatically improve documentation efficiency, enabling neurologists to focus more one-on-one attention on their patients.
Telestroke Services Ensure Timely Intervention and Reduced Wait Times
Sevaro's revolutionary OneCall system ensures neurologists can provide timely interventions in telestroke cases, recognizing that "time is brain." Calls reach the on-call teleneurologist within 45 seconds, optimizing patient care efficiency during critical moments. Sevaro is dedicated to pushing the boundaries of teleneurology and telestroke by continuously exploring emerging medical technologies and advancements. This singular focus keeps them at the forefront of innovation, continuously reducing wait times, enhancing patient outcomes, and improving access to care in the field of neurology.
Conclusion
Designed by neurologists for neurologists, Sevaro prioritizes your voice in shaping the future of neurological care. With our commitment to doing the right thing for patients and each other, our neurologists have a sense of fulfillment and work-life balance that many thought was impossible. By mutually agreeing on the number of shifts worked per month, Sevaro prevents burnout and fosters a highly rewarding environment. 
Offering neurological services nationwide through our unique telemedicine platform, Sevaro pioneers innovation in telestroke and neurological care. Embrace the transformative changes in neurology made possible by collaborating with Sevaro, where teleneurology and telestroke services redefine the boundaries of modern healthcare.